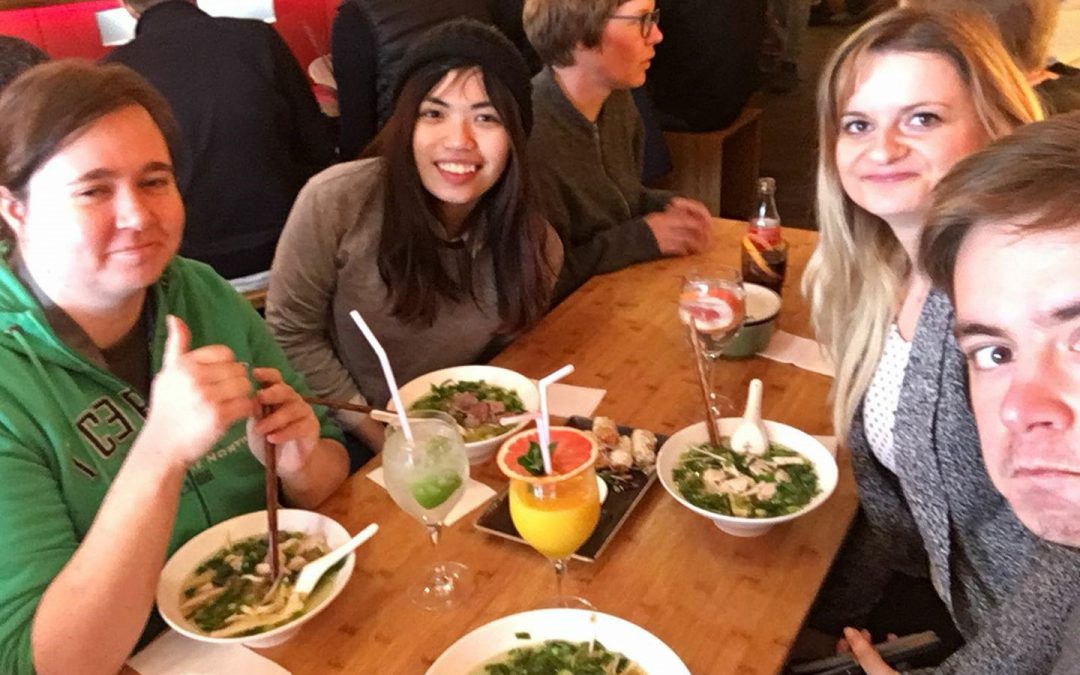 Adéla Chromčáková
Student at Silesian University in Opava, School of Business Administration in Karviná
March 2018, Spring, 2 weeks spent in Germany in the beautiful town of Wildau with the perfect people from OPF Karviná and with the opportunity to meet many other students and teachers from 6 other European countries. And not only that. Deepening knowledge and skills in business and work in a multicultural team. I could not believe that I can get all of this through the ECMT + project. After successful completion of the selection process, we have started our intensive preparation. And let me tell you, it really was intensive, I had to dig deep and find many new skills. Together with our team of Czech students, we searched for the current gaps in the market, creating business ideas from which we have developed two in graphic form and taken with us to Germany. And that was only the beginning of our wild ride.
The first day of the program began with ice breaking and getting to know each other, presentation of the ideas of all 7 teams, subsequent division into multicultural teams and assignment of a coach who was guiding us. I hope it is clear from the description that the first day was quite demanding, positively challenging 🙂 And not just the first day. All of the days, the whole two weeks, were demanding, and especially illuminating. After familiarizing ourselves with the people in the team, first contradictory feelings and the initial planning of our idea, we have received a task to visit and discover Berlin or its surroundings, to find out whether there is an enterprise that is close to our idea. Based on these findings we could move further with our planning. It was a great surprise for me that the companies were very willing to show us everything and even do a brief interview with us. And even offered us a taste of their products. Despite the language barrier, the staff of these companies were very pleasant and inspirational. However, the biggest step out of my comfort zone occurred on the day we were sent to the magnificent city of Berlin with a clear task – to confront people, our potential customers, with our idea, find out their opinions and feelings about it. This made me scared! At first, it was incredibly challenging for me, to choose the right person who would probably be willing to talk to me and then literally talk to them. But after talking with two people, who have been nice, my unpleasant feeling was gone. On the contrary, there was plea and a desire to ask virtually everyone.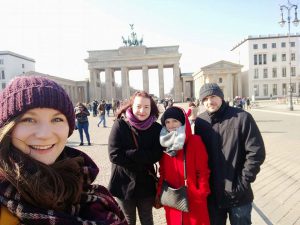 Photographer: Eva Pitrunová
Photographed from left: Eva Pitrunová, Natálya Bukviarová, Adéla Chromčáková, Michal Stoklasa
Market research was done, it was time to go into detailed planning and preparation of the presentation to investors. Due to the lack of time and increasing nervousness and stress in the team, our morale was not the best. But our coach was always available to us, giving us the motivation and energy to not give up. Unfortunately, after the first week, the coach had to leave, and another coach was assigned to us, who had different views than the first one, which caused several unpleasant situations. We had to change a lot of our plans at the last minute, which had a significant impact on our final preparations and presentations. The closer we were to the final term, the longer we spent preparing and reworking the strategies we had already proposed. During the increasing nervousness, it was a great lesson for me to perceive the needs and customs of other nationalities in the team.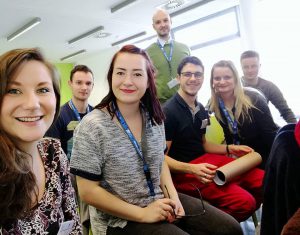 Photographer: Eva Pitrunová
Photographed from left: Eva Pitrunová, Martin Czyž, Natália Bukviarová, Michal Stoklasa, Michal Doležal, Adéla Chromčáková, Dominik Schopf
The day before the presentation. Nervousness reaches its peak, a lot of work ahead of us. The evening is approaching, the presentation is not even 10% ready, oh well, working through the night and getting up early. That was our team agreement. We will not give up what we have started. Despite our fervour, we unfortunately did not manage to determine the roles ahead of the presentation, so it seemed very chaotic to investors. Based on feedback, we found out that we would not get any investors, as we had unclear financing, and we lacked plenty of details at each step. A great lesson was for us not only feedback from investors, but above all teamwork and better time distribution of individual steps.
Thanks to the ECMT + project and the intensive program, I have confirmed my strengths and weaknesses, trained my English in various situations, gained a lot of valuable experience, I have stepped out of my comfort zone several times, which helped me move forward immensely. I have also gained a lot of contacts and had the opportunity to get to know the capital of Germany.