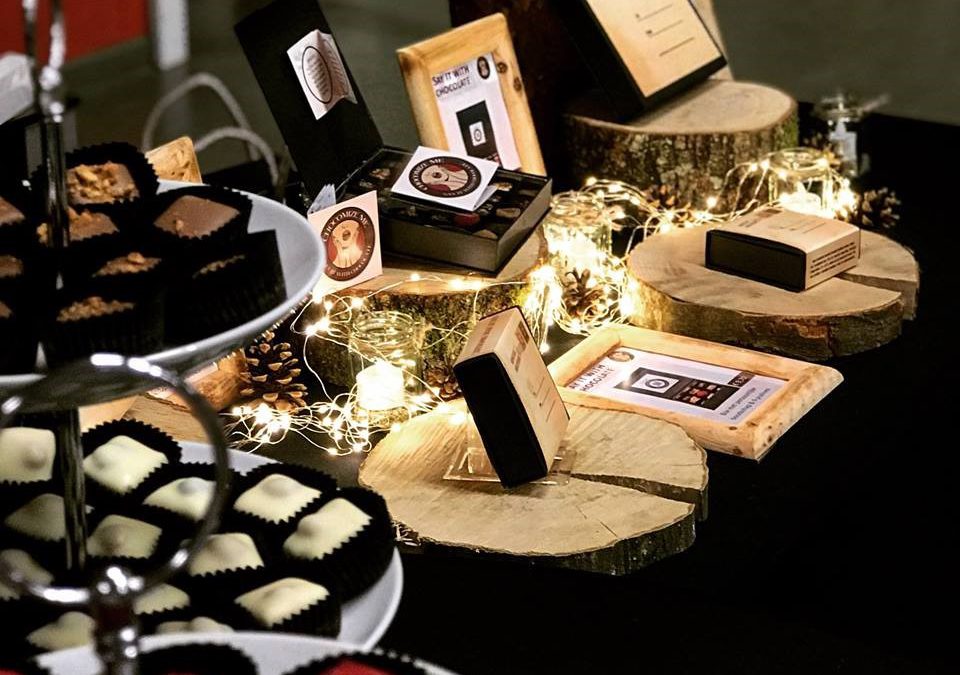 Ann Vandenbroucke
Lecturer, Head of the Bachelor of Business Management & Entrepreneurship – Head of the Bachelor of Business Management with triple degree – Head of the English Bachelor of Business Management, VIVES University of Applied Sciences
To make students feel what it means to be an entrepreneur, we chose a practical Business Project instead of a theoretical bachelor's thesis for the students of Business Management specialising in Business Management and Entrepreneurship. In this project, students are divided into groups, based on their profiles. The intention is to have different profiles that complement each other in one group.
At the start of the academic year, the students begin with a brainstorming process. It is the intention that they come up with an idea for a product or service in which they offer added value. So, as it were, they should not buy and sell soap and towels if they do not have a strong marketing story or a completely innovative twist.
Once the students have pinned their idea, they give a pitch to convince potential investors and fellow students. They also start conducting a market survey and developing a business plan. The students then look for funding from shareholders and (compulsorily) borrow a part of the money they need from the bank. During the first shareholders' meeting, they present their plans to their shareholders. After that, they start buying and selling or sometimes also producing their product or service.
Doing business involves keeping correct records, keeping accounts (with internet-based accounting software) and, last but not least, doing good group work.
At the end of the academic year, students close their accounts and prepare an annual report in the same way as companies do every year. They hold a second general meeting in which they tell their shareholders how the project went and, of course, how much dividend they can pay.
The measure of success (read: good marks) is not really the amount of profit the students achieved but rather how creative the idea was, how well they executed their project (pitch, general meetings, business plan, annual plan, accounting), how flexibly they managed successes and setbacks, how they responded to the market and how well they worked together in a team.
When we question the students at the end of the project, they always agree on one thing: they have learned a great deal because they did not have to study course material, but they had to put into practice all the learning material from the past few years.
One important element of this project, from the educational perspective, is that each team has a coach available to answer questions, to provide feedback, and to follow them up all year round. There is also a confidential counsellor who the teams can turn to if there are personal problems or problems within the team that they would rather not discuss with the coach.
One example of a Creative Business Project last academic year was Chocomize Me.  As Belgium is well known for its outstanding chocolate, this team decided to personalise chocolates with a QR-code. They aimed mostly for B2B sales, but also sold directly to the customers.
In their B2B sales, they mainly focused on companies that wanted to give a business gift.  They sold the chocolates with a QR code embedded in them. When the business partner scans the QR code, a video or message from the company in question is shown. In B2C sales, they mainly sold to people who wanted to buy a gift for someone with a personal message.
The team was responsible for making or helping to make the films, linking them to the QR code, purchasing the chocolates and personalising the packaging with, among other things, the QR code, their own house style, and of course in the case of B2B the logo/information of the company.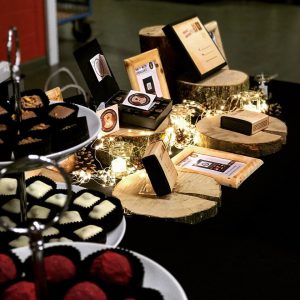 This is how they presented their chocolates during the sales moments to private individuals.
Some other projects from last year included: a team making fancy bracelets with an own twist (Embrace It); a team that designed and produced an ice bucket in which you can hang your glasses (PersonIce); a team that made, together with a nutritionist and a caterer, healthy salads that were sold both to students and to companies (Salad Avenue); a team that sold sprays with fragrances that work on the mind (O' de Moral); a team that sold special combinations of herbs for cooking (Epices Délices); a team that made and sold wallets made of water-repellent and non-crackable paper that take up very little space (In the Pock€t); a team that went in search of recipes for healthy muffins and then had them baked by a baker to sell them (Healthy Bite); a team that made popcorn with new flavours ('t Poft); a team that completely personalised Eclairs – customers could choose both the filling and the toppings (Faux clair); a team that personalized tote bags with funny quotes or quotes chosen by customers (Tote.)
Through these projects, all students through these projects gain some idea of entrepreneurship. A minority chooses to start an independent activity after their studies, while most of them either continue their studies or go to work in a company. Some also prefer to first gain experience in a company and then start their own business later on.
These projects are an elaborated version of the Intensive Project we have in the ECMT+ project, only in this case the teams are not multicultural. Every project is a journey in which intrapreneurship and entrepreneurship are nourished and valued.
We wouldn't go back to a theoretical bachelor's thesis.